File your taxes for free with VITA and Goodwill

The Volunteer Income Tax Assistance Program (VITA) offers free tax help to low- to moderate-income (generally, $56,000 and below) people who cannot prepare their own tax returns. IRS-certified volunteers sponsored by various organizations receive training to help prepare basic tax returns in communities across the country. Goodwill Industries of Central Florida is proud to be one of many VITA tax preparation partners.
What to bring to your local VITA tax preparation site.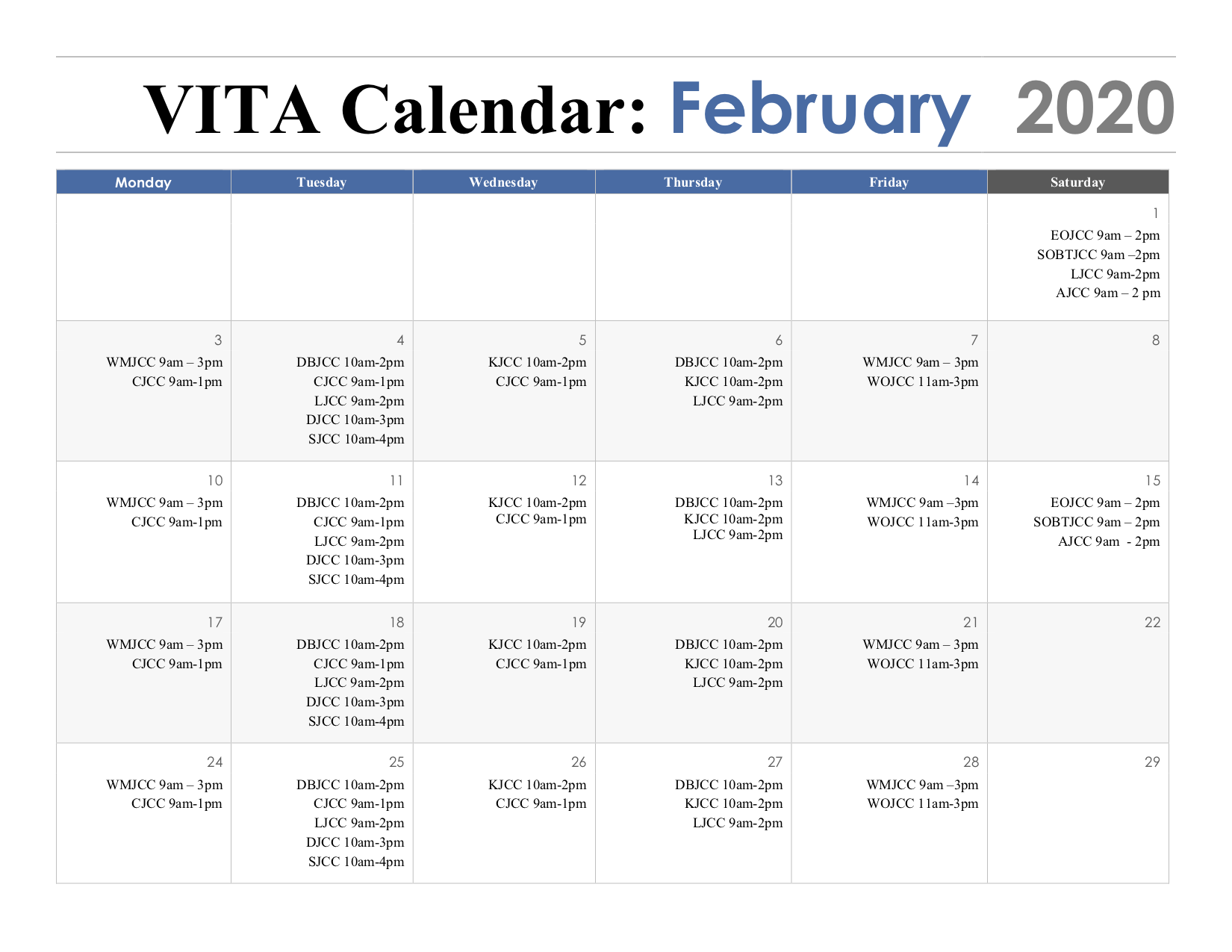 Locations:
(AJCC) Apopka Job Connection Center – 1312 E. Semoran Blvd., Apopka, FL 32703 – (407) 720-3300
          VITA Saturday – 2/1/2020 & 2/15/2020 (9am – 2pm)
(CJCC) Clermont – 1855 S Grand Hwy, Clermont, FL 34711 – (352) 404-7799
          VITA -Monday-Wednesday 9am – 1pm (by appointment only) February 3rd – April 15th
(DBJCC) Daytona Beach- 112 North Nova Road; Daytona Beach, FL 32114 (386) 258-8585
          VITA Every Tuesday and Thursday- February 4th to April 16th (10am-2pm)
(DJCC) Deland- 1600 N. Woodland Blvd., Deland, FL – (386) 265-0970
          VITA: Tuesdays only, February 4th – April 14th (Walk-in on-site 10am – 3pm)
(EOJCC) – East Orlando – 3911 East Colonial Drive, Orlando, FL 32803 – (407) 872-0770
          VITA February 1 and 15 from 9:00 am to 2:00 pm
(KJCC) Kissimmee – 1356 East Vine St., Kissimmee, FL 34744 – (407) 847-0696
          VITA Every Wednesday and Thursday- January 29 to April 16th (10am-2pm)
(LJCC) Leesburg- 10600 US HWY 441, Leesburg, FL – (352) 323-1847
          VITA: February 1st-April 11th Tuesdays and Thursdays 9am-2pm (by appointment only) and Saturdays: 2/1, 3/7, 4/4, 4/11 from 9am-2pm (by appointment only)
(SJCC) W. Sanford – 4516 W. State Rd. 46 Sanford FL 32771 – (407) 936-0469
          VITA Every Tuesday from 10am – 4pm by appointment only
(SOBTJCC) Orlando – 7531 S. Orange Blossom Trail, Orlando, FL 32809 – (407) 235-1501
          VITA Every 1st and 3rd Saturday – February 1st – April 11th (9am – 2pm)
(WMJCC) West Melbourne – 2245 Coastal Lane, West Melbourne, FL 32904 – (321) 953-8188
          VITA Every Monday & Friday From February 3rd to April 13th (9am – 3pm)
(WOJCC) W. Orlando – 3200 W. Colonial Dr., Orlando, FL  32808 – (407) 745-5550
          VITA: February 7th -April 10th   Fridays 11am-3pm (by appointment only)