Goodwill Connects is Goodwill Industries of Central Florida's virtual job connection resource for services including job search assistance, résumé writing support, connection to community resources, and more.

Take a look at our upcoming virtual events!
Building Lives That Work through virtual services!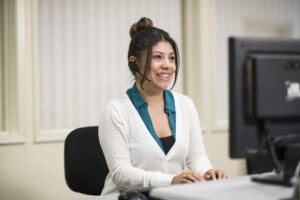 We provide the following virtual services to community members in Brevard, Lake, Orange, Osceola, Seminole, and Volusia Counties:
Job Search Assistance
Connecting you to employers currently hiring and sending job listings straight to your inbox
Online résumé reviews so you stand out to employers
Search and discover jobs with Indeed + Goodwill®
Community Resources
We have partnered with community organizations to provide you with information and refer you to the resources you need
Connect With Us
Submit a request for services Opens new windowhere, or contact us at (407) 235-1541.
Employer Services
If you are a business with open positions, Goodwill Connects, Goodwill Industries of Central Florida's virtual job connection team, can increase your candidate pool and fulfill your workforce! Enroll now as a partner employer Opens new windowhere.
Have You Been Hired or Promoted?
Opens new windowLet us know about your new job or promotion!
Upcoming Goodwill Connects Virtual Employment Resources Webinars and Workshops
Webinars, online classes, and workshops to help you land the job you want
Career Exploration
Are you ready for a career change? Learn how to explore careers that are the right fit for your preferences, e.g. the skills, interests, and values.

Indeed + Goodwill®: Creating a Résumé on Indeed
Learn what employers are looking for on your résumé! Using the Indeed platform is an easy and efficient way to create your résumé, stand out to employers, and learn how Goodwill can help you put your best foot forward on paper.

Professional Networking
Job networking is one of the best ways to find a job. Learn how to connect professionally and build relationships to help you land the job you want.

Sealing and Expungement presented by Seminole County Bar Association Legal Aid Society, Inc.
Do you have an arrest on your record that DID NOT result in a conviction? You may be eligible to have your criminal record sealed or expunged. This in-person workshop and webinar explains how to complete the process to seal or expunge a criminal record on your own.
SEPT. 6 – SEMINOLE COUNTY LIBRARY

Job Searching 101
Learn effective job search techniques using tools and resources such as Goodwill® + Indeed while avoiding common job search mistakes.

Interviewing Success
Ace your next interview by learning techniques that will help you land the job. The different types of interviews will be presented, including virtual interviews, while gaining insight into questions employers ask and how to answer them.